SEX IN THE AFTERNOON WEDNESDAY AFTER WORK PARTY
3:00pm to 7:00pm
$20 Couples, $60 Single Men, Single Females Free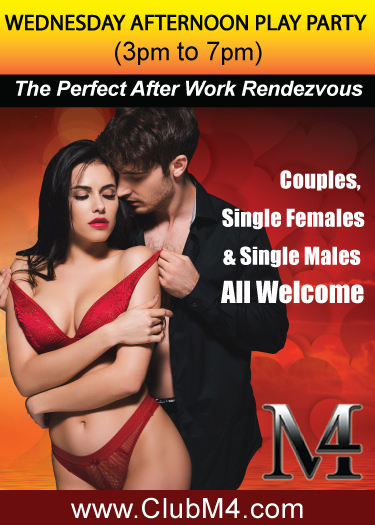 Bi Nights! Every Wednesday
We are not taking reservations for these events. You can just walk-in and pay for these nights at the door.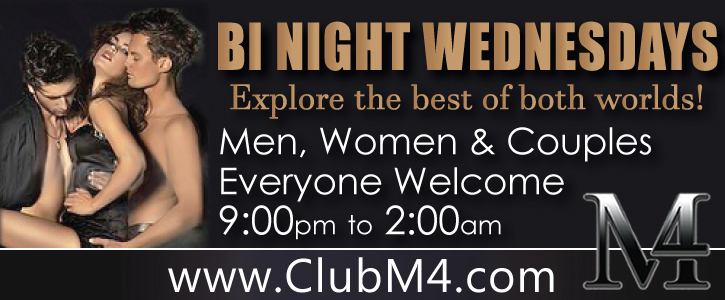 A true sexual adventure!  (9pm to 2am) Regular Wednesday Nights
$20 for Couples  Free for Single Females
$60 / Single Guys (Pricing Not Applicable to Dec 29th Special Event)
PLEASE NOTE: On Wednesday Dec 29th we have a special Pre-New Year's Fetish Fantasy party hosted by: Empress  Details Listed Below.
Club M4's Fetish Fantasy Wednesday Night Dec 29th (9pm to 2am) SPECIAL EVENT
Join us for New Year Foreplay!
A deliciously sexy and kinky event!
December 29, 2021,
9 pm – 2 am.
Come join us for a night of dance, debauchery, and decadence! DJ Prospero will be providing music to indulge your sexy fantasies and kinky fetishes! Be sexy, seductive, and outrageous! Be creative and dress to thrill! Fetish wear or lingerie is mandatory!
Expect the decadent, sexy and kinky! This event will feature multiple play areas, scintillating visuals and music, various socials, a little's, and pet play space, grappling and struggle play, full body massage and foot massage, vendors and outrageous demonstrations! This is an event not to be missed!
Special event rules include towels only, sex and masturbation is restricted to the bedroom area!
Send payment to kinknation@outlook.com. $35 pp and $60 per couple. Pre-event payment will close at 9pm on the night before the event. Tickets can be purchased at the door the day of the event for $45.
Payments can be made by E-transfer to kinknation@outlook.com. No password required.
If you have any questions, you can contact Empress or DepravedEvents on Fetlife or Empress on www.menageaquatre.com. Email Empress at kinknation@outlook.com.
Looking forward to seeing you there!
Bi Night Wednesdays are an opportunity for anyone to explore their bi-curious or bi-sexual desires at their own pace without judgment. Everyone is welcome to attend and delve into their own options. Find out if the best of both worlds is something that interests you.  It's always a great night to make new friends and meet potential playmates.
Join us Wednesday Nights 9pm-2am