SEX IN THE AFTERNOON THURSDAY AFTER WORK PARTY
3:00pm to 7:00pm
$20 Couples, $60 Single Men, Single Females Free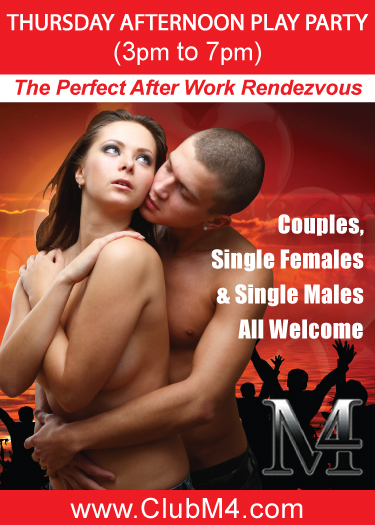 Sex in the Afternoon Play Parties Thursdays at Club M4
Did you ever want to leave work early and/or do something exciting and sexual after work?
Here is the perfect suggestion: come to Club M4 for our Sex in the Afternoon Play Party.
This is the ideal after work rendezvous, see you there.  Open 3pm to 7pm.
$20 /Couples, $60 /Single Male
Single Females Free
                             COMEDY NIGHT & COUGAR NIGHT TOGETHER THIS THURSDAY EVENING
DEC 2nd CUM LAUGH & PLAY
A DOUBLE HEADER FOR THE REGULAR ADMISSION PRICE AT CLUB M4 
Comedy Nights Return This Thursday Evening Dec 2nd @Club M4 With Some Great Comics
We have a special addition this evening to our Cougar Thursdays, It's Bumpin Uglies The Naked Truth Stand Up Comedy Show. We have some fabulous comics entertaining us as it's Hosted by Nahtan Teixiera. He will be followed by a super funny headliner Manolis Zontanos and our feature comedian is Doug Koning. There will also be special guest appearances by Chris Adorati, Michael Moses and Allie Moore. Everyone is welcome to attend. Join us for a fun night of comedy and playtime at M4. Show starts at 10pm, so cum out, have a drink and lots of laughs. It's the second best emotion that you can have at Club M4.
 Couples-$20.00*
Single Males $60.00*
Single Females Free*
*Club M4 Membership Required ($30)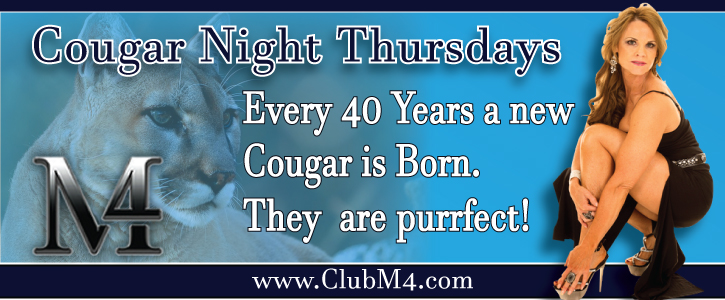 Club M4 Presents Cougar Thursday Nights (Every Thursday)
We are not taking reservations for these events. You can just walk-in and pay for these nights at the door.
It's the purrfect night to meet and play. Girls just love to have fun
$20 for Couples! Single Women always FREE! Single Guys – $60