THIRSTY THURSDAY AFTERNOON PLAY PARTIES 
All attendees also receive a discount for the evening party
Every Thursday 1pm to 5pm
We know what you are craving so come out and
Quench your sexual appetite
 $10 Couples
$40 Single Men
Free for Single Females
Thursday is the new Friday so cum out and play.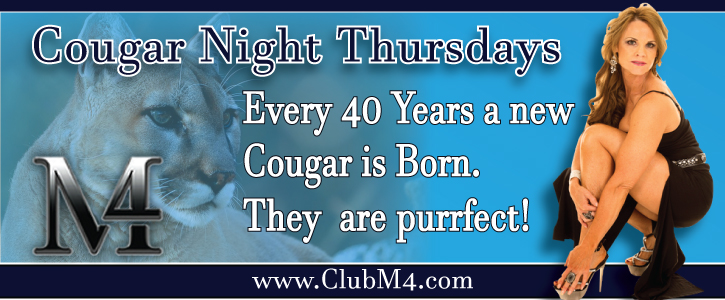 Club M4 Presents Cougar Thursday Nights
It's the purrfect night to meet and play. Girls just love to have fun
$20 for Couples!
Single Women always FREE!
Single Guys – $50
Mella's Thursday Evening Party At Club M4:
 Don't miss this once a month fun night. Get your tushies down there! 
 Hot Shot Chocolates will be selling TUSHY inspired yummy chocolates @ 10pm.
 Brass Vixens will perform a TUSHY inspired pole dance at 10:30pm.
 Always fun! Everyone welcome! Meet at the hottest swingers club in Ontario.
Tushy Party Dates
Sept 13th
Oct 11th
Nov 15th
Dec 13th 
 
MELLA TORA EVENTS
Facebook: Mella Tora
Café Desire: Mella Tora
Email: mellatoraevents@gmail.com
Web Site www.torontolse.ca