SEX IN THE AFTERNOON THURSDAY AFTER WORK PARTY
3:00pm to 7:00pm (NEW HOURS)
$10 Couples, $40 Single Men, Single Females Free
Sex in the Afternoon Play Parties Thursdays at Club M4
Did you ever want to leave work early and/or do something exciting and sexual after work? Here is the perfect suggestion: come to Club M4 for our Sex in the Afternoon Play Party. This is the ideal after work rendezvous, see you there.
New times are now from 3pm to 7pm.
Cost:
$10 /Couples, $40 /Single Male
Single Females Free
Club M4 Location
1989A Dundas Street East
Mississauga, Ontario
647-430-7975
www.clubm4.com   or www.menageaquatre.com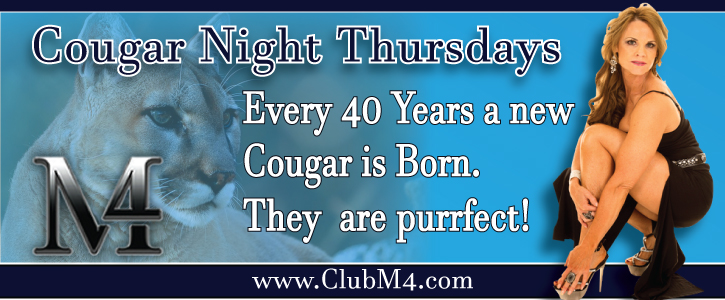 Club M4 Presents Cougar Thursday Nights (2nd Thursday of Every Month)
It's the purrfect night to meet and play. Girls just love to have fun
$20 for Couples!
Single Women always FREE!
Single Guys – $60
Miss Mella's Tushy  & Toe Thursday Night Event Held on The 3rd Thursday of Every Month
 Miss Mella's  Tushy &  Toe Thursday Evening Party At Club M4:
Lap Dances @ 11pm
 Don't miss this once a month fun night. Get your tushies down there! 
 Hot Shot Chocolates will be selling TUSHY inspired yummy chocolates @ 10pm.
 Brass Vixens will perform a TUSHY inspired pole dance at 10:30pm.
 Always fun! Everyone welcome! Meet at the hottest swingers club in Ontario.
Held on the 3rd Thursday Night of Every Month 
  
MELLA TORA EVENTS
Facebook: Mella Tora
Café Desire: Mella Tora
M4 Chat: MellaTora
Email: mellatoraevents@gmail.com
Web Site www.mellatoraevents.com
A DOUBLE HEADER FOR THE REGULAR ADMISSION PRICE AT CLUB M4 
Comedy Thursday Feb 27th @Club M4 Tonight (10pm)
We have a special addition this evening to our Cougar Thursdays. It's Bumpin Uglies: The Naked Truth Comedy Show bringing you a BBC Show as we celebrate Black History Month. The show will be hosted by Nathan Teixeira and he will be followed by a very funny headliner, Jean Paul. Other comedians on the comedy roster include: Chris Robinson, Black Zeus, Quinn C. Martin and Crystal Ferrier. A great line-up for a fun night! Everyone is welcome to attend. Join us for an evening of comedy and playtime at M4. Show starts at 10pm, so come out, have a drink and lots of laughs. It's the second best emotion you can have at M4.
Couples-$20.00*
Single Males $60.00*
Single Females Free*